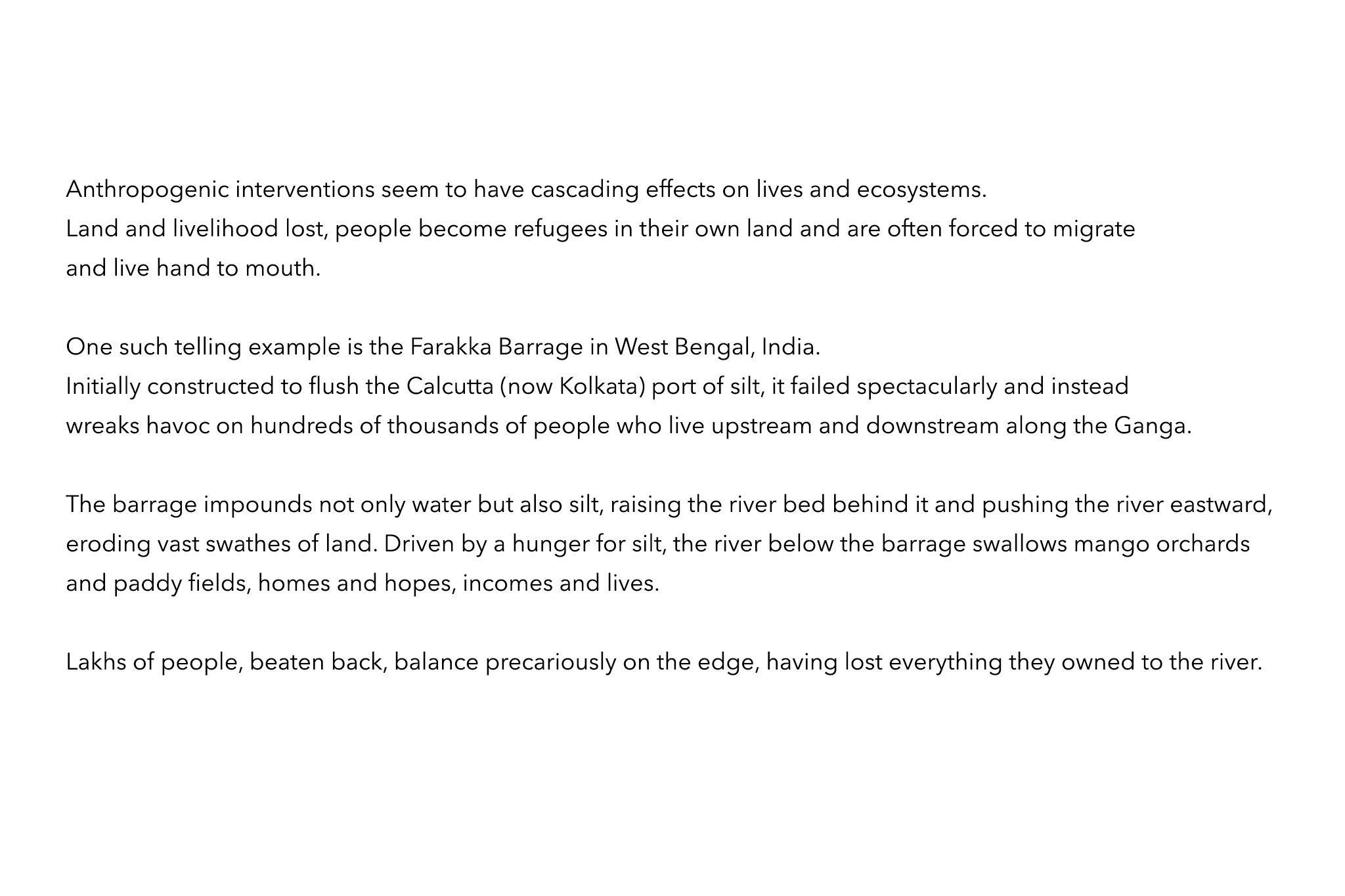 This is a half eaten road that jags into a steep 100ft drop and into an 80ft deep #Ganges. It used to not be that way. Beyond this road were mango orchards and paddy fields. Homes and hopes and incomes and lives. All swallowed up by a river driven insane with hunger by the Farakka Barrage that denies it its silt. Lakhs of people, beaten back by the marauding river, balance precariously on this edge.
Manikchak village abuts the #Ganges which enters WestBengal here from Jharkhand. The far shore is thick with unmovable boulders. The river strikes it and ricochets to hit this shore, eroding and swallowing it in large gulps of bigha after bigha. These farmlands are next in line for erosion.
The water that you see used to once be mango orchards, roads, homesteads, and schools. The river has gulped its way to its present flow and continues to eat land
Kids look out over what was their village, before they were born.
Bank-line fortifications have proven useless along the hungry silt-deprived ganges, downstream of the Farakka Barrage. The land continues to fall, be eaten away by the river both in the monsoons and in winter. Crores of rupees continue to be spent in these futile efforts to prevent erosion, instead of on the more logical rehabilitation of people.
A half-eaten road runs along what has now become a cliff along the Ganga
Haji Mujibir Rahman taught himself medicine. "It's not great but at least we have something," says the soft-spoken self-effacing old man. He runs a pharmacy and a basic diagnostics outfit on a sandbar island, a char, that the map says rose from the Ganges to join with Jharkhand.

They don't have hospitals? They do. That is, they have a shell of a building. No doctors, nothing.

Have they asked the government for it? Several times, during elections, paid for with their sworn loyalty. The politicians leave empty-promise souvenirs.
This would be a ticket out of the desperation, most youth in the villages around the Farakka-affected Ganga imagine. Mumbai.
A ticket to Mumbai is a ticket to better prospects they think, but Mumbai is no cakewalk. The migrants are forced to live on footpaths and wait interminably to be "set up" with some business, somewhere. Or not. Every house in the Farakka region is erosion-hit, and every family has one, two, three men in Mumbai. Sometimes no men remain behind in the village at all. They've all gone -- denied any livelihood at home -- chasing incomes across the country.
Those who cannot migrate -- the poorest of the poor -- are the women and children. They remain behind in these degraded, devastated landscapes sans any support, healthcare, income, or education.
The next generation of environmental refugees working in a brick kiln. There are many things wrong about this picture. For one, these are all kids -- some not even 6, as far as the eye can see. Another, this brick kiln uses the mud from the banks. It is hollowing out an already weak bank, inviting the river to erode even deeper. Third, this is one of the districts worst affected by erosion, downstream of the Farakka Barrage and ranks 6th highest in population of children in India. It is listed as one of the "Most Backward Districts" in India and gets no support from the government
Reena, 12, says she wants to become a teacher. But her prospects of a good education towards that goal are bleak. Her school is almost an empty shell with a teacher coming one in two days in a week, if that.
A household with seven children, aged 20-something to three, makes a living rolling beedis (an Indian cigarette made from stuffing tobacco into leaves of the tendu tree) ... About 1000 pieces fetch no more than 100-200/- if that. And if there's a surplus at the beedi factory, the demand drops, and their meager income goes up in smoke. These people had a few bighas of land before the Ganges rose, wandered, and swallowed the whole village.
As the Ganges ploughs through the plains, it regurgitates the sediment and soil as sandbar islands known as chars, where this market sits. These chars are birthed by the river, and reclaimed, and birthed again elsewhere; they defy standard land/water classifications, and "belong" to no one. These deposits of silt are rich, fertile; they yield bountiful crops; they tantalise with possibilities, but are too ephemeral to sustain planned lives and livelihoods. The truly desperate take refuge on these chars. They "recognize" their land in the chars, they parcel the sandbars mirroring the mainland, they give the chars names, and they till it and reap rewards till the river takes it all back, leaving them homeless and displaced, yet again...
Where is your home? I asked this boy. He pointed into the river. Narayanpur shows up on Google maps as in the middle of this river channel. Not a decade ago, it was a bustling hamlet. Its denizens displaced, are still fighting to be rehabilitated or given any means of income or health and education support